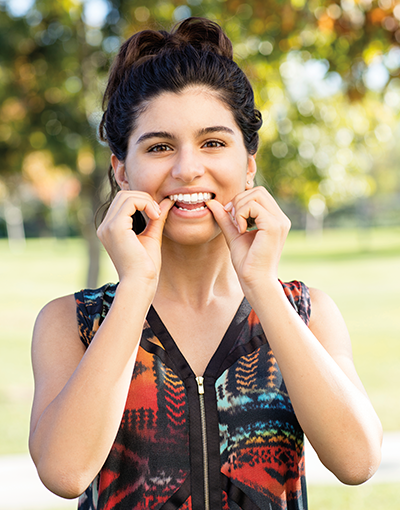 Avoid the hassle of traditional metal braces with Invisalign, a state-of-the-art orthodontic system that lets you get that gorgeous smile without the need for brackets and wires.
To schedule an Invisalign consultation, please request your appointment online or call our conveniently located orthodontist office in North Liberty, IA.
At Corridor Family Orthodontics, everyone at our office believes orthodontic care is a journey that should be enjoyed. We promise to take excellent care of you. Ours is a family-friendly, patient-focused practice, where we provide the highest level of affordable care in a warm environment.
---
About Invisalign
Having straighter teeth isn't just about looking and feeling your confident best. When your teeth are straight, it's a lot easier to keep them clean with regular brushing and flossing, and that means your risks of developing cavities and gum disease are reduced.
Benefits of Invisalign
Invisalign uses a series of clear plastic aligners to move teeth into their correct positions over time, eliminating the need for wires and brackets. The Invisalign system has soared in popularity, thanks to these great benefits:
The aligners are truly clear, which means they're almost invisible while you're wearing them
You can take your aligners out to brush and floss, so caring for your teeth is a lot easier
You remove the aligners for meals, which means you can eat whatever you like — even chewy bagels and corn on the cob!
With Invisalign, there are no painful monthly adjustments; instead, you just swap out your aligners for the next set in the series
You'll have fewer office visits — most patients only need to see us about every six weeks to check on their progress
Most Invisalign treatments take less time compared to traditional braces; in fact, many patients complete treatment in 18 months or less
There's an Invisalign system designed especially for teens whose back molars haven't come in yet
Aligners are easy to care for with gentle brushing and optional soaking
A Custom Treatment, Just for You
Invisalign treatment begins with impressions, or molds of your teeth and your bite. These impressions are sent to a lab that specializes in Invisalign aligners. The impressions are scanned by a computer, which creates a series of images showing how your teeth need to move to come into alignment. At Corridor Family Orthodontics, we utilize the iTero 3D scanner to make your treatment even more stress free.
Then those images are used to create your custom aligners. Each set of aligners is worn for about two weeks before being exchanged for the next set in the series. The number of aligners you have will depend on your treatment, but most people have anywhere from 12 to 30 sets (and sometimes more).
With so many advantages over traditional braces, it's easy to see why Invisalign is popular with adults — and teens, too. To learn more about the Invisalign system and whether it's a good choice for helping you reach your goals, click here to request an appointment online or call our conveniently located orthodontist office in North Liberty, IA.